Happy Birthday Norman Rockwell
I love the Google search page graphic today: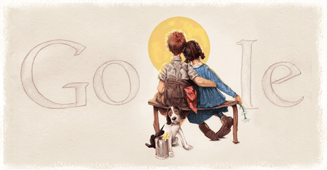 Set to commemorate the birthday of American artist Norman Rockwell, it really grabbed me this morning when I saw it.
For many years the only decoration the Mrs. and I had in our first flat in Sandringham were a set of three Rockwell prints that were given to us by her dad. They are prints of three of the early cover illustrations that he did for The Saturday Evening Post magazine.
They lined the wall in our small lounge/dining room, and besides the odd photograph or two in standing frames, were the artistic focal points in the first home we shared together. This was in the early 1990's, before we were married.
We still have the prints in one of the spare bedrooms in our home today. And whilst the frames are a little worse for wear in some places, the prints are still good – maybe now would be an appropriate time to reframe them and get them back into a more public place?