Free 2010 World Cup Supporters Avatar Icons & Badges – All 32 Teams
Visit The BlaBla Blogs' Photobucket Album if you're having trouble copying & saving, or if you need embedding links and codes
Voteds' campaign over at his blog, and the challenge laid down by WhiteSockGirl aka The Fab Bitch recently, prompted me to put together this collection of avatar icons for use by whoever wants them.
They are a full set of national flags representing the 32 teams that will be competing in the 2010 World Cup which could be good for avatar and profile images on sites such as Facebook, Twitter, and as Gravatars wherever you may be using them. They'll also work well in blog sidebars as badges!
WSG/FB, your badge is at the bottom of the page

Right-click on an image to "Save as…" or

Right-click on a country name and "Open in new window" to see full size in new window |

More links below the images to download the full set in a zip file.
Bonus!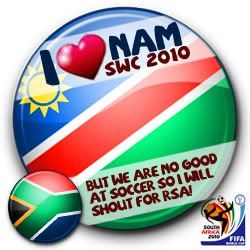 Namibia
(created especially for White Sock Girl, the Fab Bitch)
Alternatively if you would prefer specific code to link to or embed the image, you should visit The BlaBla Blogs' Photobucket Album where you'll find embedding and link codes for all of the images. These codes can be used for a large variety of services, including Facebook, Twitter, blog sites, email and even mobile phone use.
Finally, the complete set of images can also be had by downloading this zip file: [download id="1"]
And hey – if you do use one anywhere, please let us know in the comments below. You know that it's the right thing to do!
The flag images were originally produced by StudioTwentyEight , and remain their property